*******
*******
.info
's World of Ideas
Links to articles with their own pages <!-Alphabetic integers, 33rd St, temperament, WTC, link to "Ridgewood" essay East River Crossings->
Christian Issues links <!-Monoevangelion, Trinity, Index->
Fan Interest Web sites <!-Line & car histories; Scooby->
Other interesting things from the Web
•Two factor political theory
•Air Powered Car
•Quadricycles/ATV's/Paddle boats/Jet Skis
•Best CGI animation: TOPIX Computer Graphics
•HunterDouglas "Silhouette" hybrid blind/shades; combo washer/dryers
•Link to Essays page for Battle of the Ghostbusters
•KICK Design subway map

BLOG: http://erictb.wordpress.com. Current information, plus some stuff that becomes outdated here might go there as well.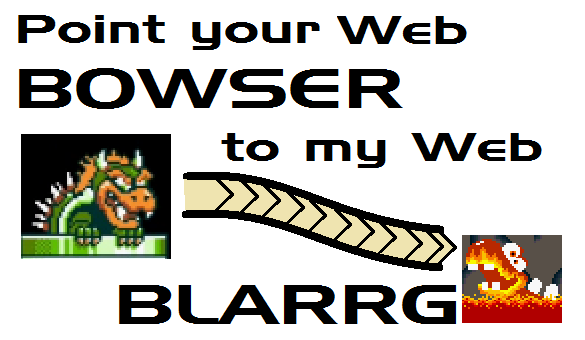 Alphabetic Integers
I always imagined extending the alphabet by doubling the digits like numbers. I later found that this is done, in court exhibits, and spread sheet programs. Here are additional and mathematical tables showing how it would work
33rd Street Passage
A forgotten passage connecting the 6th and 7th Avenue subway mezzanines (including PATH) that was useful, but prone to crime and the homeless. With the revitalization of the area, it should be given another chance and opened. Formerly owned by Gimbel's, it is now owned by Vornado Realty, owners of both the Manhattan Mall and Hotel Pennsylvania, comprising the whole block, of which the passageway is the property's sidewalk vault. Includes pictures, both mine and others, and how to find where it is sealed up.
Temperament For Dummies
Discusses the basis of temperament theory, and how it helps us understand ourselves and others. Promotes a theory of a fifth temperament, and how the factors of temperament theory (Introversion vs extroversion, along with people vs. task orientation), work. There are also three "areas of need" through which people's temperaments can be blended. All of this was derived from the once popular FIRO instrument. This is a multi part series, and part two discusses MBTI, and there are also comparisons between the two systems and other instruments.
World Trade Center memoirs
My memories of WTC (where I had my very first paid job) and thoughts about 9-11 and the ideological debates thet followed.
East River Crossings Manhattan Bridge Alternatives
This is basically outdated, but it is interesting to see some of the BMT-IND subway patterns they came up with, in the event of the Manhattan Bridge being fully opened (O), partially open (N north tracks/S South tracks), or closed (C), and a proposed alternate connection between DeKalb Avenue and the F line tunnel built or not. Of course, the bridge is now finally fully open after years of switching back and forth between one side or the other. But before this, especially in the transitional 90's, when seemingly neverending work was continuing, and even possible threats of permanent total shutdowns floated around, transit fans always wondered what service would be like if it was fully closed, or the work was finished and it was fully open, or the new connection built. So this was valuable information.
The new connection was not built (And now the area it would have been dug up in is being built up). There was an option on there called "No Build" or "Transportation Services Management" (TSM) meaning using the existing infrastructure and improving serivce. This technically is what is being done, though the current pattern is still nothing like the TSM-O in the list. These patterns reflect the pre-2001 routings (B on West End line, D on Brighton, Q on 6th Avenue), which changed when the Bridge swapped back from the N to the S configuration in 2001, and by the time the work was finished and it fully opened, rider input and other operational issues went with totally different service patterns, so it's all moot now. It is still helpful in giving an idea of what it would be like if the bridge was completely closed, and the tables include the throughput (trains per hour).
BTW, the public hearing where this info was given out took place in the WTC, and was the last time I was up in one of the towers (a good four or so years before 9-11).
Rap: Where Did We Go Wrong?
I also have written an essay on rap music or hip hop, which frequently been coming under criticism, even from black leaders and newspaper columnists, for its violence. It originally started out as a response to the article "Rap Only Ruins" by John H. McWhorter, (PostOpinion, NY Post, 8-10-03; taken from "How Hip-Hop Holds Blacks Back", City Journal, 7-1-03. http://www.city-journal.org/html/13_3_how_hip_hop.html), which actually blamed Grandmaster Flash's "The Message" for the beginning of the downfall. But I actually see that as the high point of it, and ultimately positive. It was the two turning points that occurred with the debuts of Run DMC and later KRS One, that changed rap. Both groups had an ingenious, but also aggressive style that quickly caught on, and in a few years, entirely transformed the genre into what is called "hardcore". I had emailed an early version of the essay to McWhorter, and also to other frequent black newspaper critics of rap, such as Stanley Crouch, Errol Louis and Karen Hunter years ago.
---
Christian issues:
Complete HARMONY OF THE FOUR GOSPELS
Blends four Gospel accounts into one narrative. Others have done this, but only this one has it's own chapter and verse system, and I try some methods to create a more freely flowing text.
Tri-une Nature of God
Offers somewhat of a possible resolution to the age-old Trinity issue. The pre-Nicene expression was less formulated, and thus easier to understand, and this should be reconsidered by Christian scholarship.
Other Christian issues at Christian page Index
---

Fan interest Web Sites
Line By Line History
Chronicles the history of each subway line in the New York City Subway system.
Subway Car history
Chronicles the history of general car assignments in the NYC Subway.
The Scooby Story
The definitive guide to the Scooby Doo series through the years.
Super Mario
Discusses the series of games, and how the first one was the best.
Filmation, the much maligned staple of Saturday Morning TV
The history and contributions of this cartoon studio, that for a time was second only to Hanna Barbera.
TONTO: Unique musical production style
Discusses the influence of engineers Bob Margouleff and Malcolm Cecil on Stevie Wonder's career. They had created a very unique sound for him, the Isley Bros. and others, replacing conventional orchestras with fat synthesizer sounds, amd adding rich harmonies and emotion to the music.
---
Other Interesting Things from the Web
Two Factor Political Theory
Just like in temperament theory, politics has also been given a two factor matrix. In personality, most people know of introversion and extroversion, but people vs. task focus is not as well known. This would be helpful, as that second dimension actually tells us how much the person really accepts others. So likewise, politics is always viewed as left and right. The second factor now, is libertarian vs. authoritarian. This makes sense, because both Hitler and Stalin were very alike in being authoritarian. But one was far Right, and the other far Left. Because of the battle with socialism, we have generally come to associate authoritarianism with the Left only. Hence this maintains the illusion of the one dimension only. So many conservatives will actually try to link Hitler and Naziism with the Left. (Making it more confusing is that "Nazi" stood for "National Socialist". Still, its agenda was very right wing). Likewise, the libertarians here may sound like conservatives since they likewise argue for less government. So, many people liken the so-called "neo-cons" (who aim to use more govt. as the vehicle of promoting conservative values) as closet leftists, but all they really are is solid rightists who are simply higher up on the "authoritarian" scale".
These two sites offer a test (much like the personality tests online) to see where you stand, as well as explaining the concept. On Political Compass, I came out left of center, and nearly on the line between libertarian and authoritarian. (slightly on the side of authoritarian. Like personality tests, there were many questions I felt did not have enough choices).
Political Compass
Politopia
Alphabetic Keyboard
REACH "special" virtual keboard
AB Keys (Partially alphabetic; vowels grouped together)
(I also like the UPS man's little keypad (Delivery Information Acquisition Device: see http://www.pressroom.ups.com/mediakits/factsheet/0,2305,1036,00.html; which also is alphabetical, layed out in a perfect square; like the little numeric keypad on calculators/adding machines, and the side of most keyboards.)
With all of this writing I do; I have never been able to touch type. Making it harder, is the completely "randomly" arranged QWERTY keyboard. That was actually put together to keep frequently used letters apart, so the key rods would not get tangled from typing them fast. Even with new technology; first all the letters on a rotating ball, then a print wheel, then dot matrix printers, finally computer screens and printers, —all replacing the old rods; they kept the same layout, because of familarity. But since I cannot get used to the layout anyway; I someday want to try one of those keyboards, and then maybe I could memorize where letters are, and have a better chance at touch typing.
There is also the Optimus Keyboard, in which each key is a small display screen. So they can be remapped at will. This originally was supposed to be done with OLED technology (another big interest of mine), but it was replaced by standard LCD's. ( Now it seems they will be coming out with the OLED version after all. As I originally wrote this, an 11 inch OLED TV was going on sale by SONY in Japan; and I had just seen the model they had on display at the Sony Style Store. I did get a small MP3 player with an OLED screen. The technology will be not only more crisp and clear than other screens, but also can be thin as paper, and eventually flexible!)
I had been looking at the UK-based ABCKeyboard, but then it was pulled from sale in the US, and eventually folded. Yet then, a similar one appears on Amazon for only $34, and wireless, even; and I get it. E-Z Keyboard. (Typing these updates with it now!)
Before that, I had gotten the ABC Soft Keyboard for my G1 phone. By the time I had upgraded to the Samsung Galaxy S2 (forgoing a built-in keyboard to gain the AMOLED screen, at last!), ABCSoft had gone under, but a new app was the Dextr Kepad: http://textwithdextr.com/ (They hadn't updated the site from when it wasnt out yet).
Switching to the new arrangements is not as easy as I thought! I didn't realize how used to QWERTY I really was! I figured I was never able to master QWERTY, so I would have like a blank slate for alphabetical, and be able to develop a more logical system for remembering where keys are. But I see I really do remember QWERTY, and look for the keys in that order, and get "lost" at times; especially for letters now off to the sides, or if I'm already on the sides, I'll fumble finding one in the middle. (Guess I did become quicker on QWERTY, though I still was not confident enough in it to be touch-typing). The Dextr I find is a bit easier, perhaps because of the more sqare layout, and with the vowels in a straight column, and not looking like the standard QWERTY layout; (though it's easy to miss the small keys, especially the ones further away, and the app sometimes crashes). So for the E-Z Keyboard, I'll have to come up with some sort of system like remebering what's left and right. (This would have been good like when I first got a computer, and was not yet so used to QWERTY).
What's good is that with modern wireless, I can have both ABC and QWERTY keyboards in at the same time, and switch back and forth if I need to type faster, or I want to practice (like now).
In other news, in order to offset the great inconvenience of not having a built-in mobile keyboard, I found very cheap Bluetooth keyboards on Amazon; which were made primarily for iPod, but now include Android as well. The first I tried was the Mini-Suit keyboard, for only $12! It was about the size of the phone, and made it a little bit easier. But keeping both it and the phone in an old pocket calendar wallet (so it would be somewhat like a flip keyboard phone), and taking the phone out when using it by itself, I put it down and forgot it, and it was taken.
So then I figured I'd find a bigger, flexible one (like the wired USB one I use on the Wii), and got the Menotek Flexible Bluetooth Waterproof Mini Keyboard.
To distinguish the different ABC layouts, we could use a number-of-keys-per-row format:
ezkeyboard and ABCkeyboard (defunct): 10-9-7 (A-J; K-S; T-Z) QWERTY layout with keys remapped alphabetically (some Big Keys products also).
Big Keys: 10-10-6 (A-J; K-T; U-Z)
ABC Soft Keyboard (defunct) mobile screen version of 10-9-7 layout
Dextr keypad: 4-4-6-6-6 (A-D; E-H; Z,I-M; N-S; T-Y; vowels in straight column) my suggestion: (A-D; E-H, I-N, O-T, U-Z; vowels in jogged column, first in each line)
UPS DIAD IV 7-7-7-5 (A-G; H-N; O-U; V-Z, numbers overlaid on central keys)
DIAD V 6-6-6-6-2 (A-F; G-L; M-R; S-X; Y, Z, numbers above)
DIAD III 4-4-4-7-7 (A-D; E-H; I-L; M-S; T-Z; wraps around numbers, upper right)
DIAD II 4-4-4-4-4-4-2 (A-D; E-H; I-L; M-P; Q-T; U-X; Y, Z numbers on right)
DIAD I 4-5-5-5-5-2 (blank key-A-D; E-I; J-N; O-S; T-X; Y,Z,BSp,Sp numbers on right)
Air Powered Car http://auto.howstuffworks.com/air-car.htm
While they say they are trying to reduce emissions (and even forcing all the old two-cycle Detroit Diesel engines to be retired), the biggest thing they are pushing is the combustion/electric hybrid, which combines a conventional, but smaller engine with electric propulsion. It's like they've still got to keep that noxious burning fuel in there, as they did not seem to be able to perfect the all-electric drive. That was what I was looking forward to. I've seen a an all electric Toyota Rav 4 (NYC Dept. of Enviornmental Protection), and rode on a small all electric downtown shuttle bus (Norfolk Electric Transit, in Virginia) once; but bus and car technnology is going with the hybrid drive. At the time I wrote this, NYC was testing a hybrid bus that uses the combstion less; to charge the battery only, which then is used for the propulsion. Otherwise, Fuel Cells seem like a nice idea as well; water vapor as the exhaust! They don't seem to talk much about that thing exploding, and if a crash will set it off, like with liquid fuel. The most I read of it is that the explosion is just a "poof", and that's it. No fire, because the hydrogen dissipates, unlike burning liquid fuel that spills on the ground burning everything in the area. Still, they don't say how big this "poof" is, and what it does to us, sitting right over the tank, located under the seats!
Anyway, I found this article on an engine that runs completely off of AIR! Hard to believe that is something that is apparently possible, yet nobody seems to be even thinking of it. Since both electric and air power are something that do not give the power needed yet, why not a compromise, with a hybrid technology between those two: an air assisted electric drive!
---
Quadricycles and other interesting vehicles.
http://www.surreycompany.com/
When I went to the '91 Billy Graham rally in Central Park, I passed by the 72nd St. exit, by Tavern on the Green, and saw a guy renting out these bright red four wheeled cycles! I thought that was so interesting. Even though bike riding finally came to me after much difficulty when I was 9 (it was when I was down at an aunt in rural Virginia, away from the traffic and potholes of the street I lived on, that I finally got it), I always thought the ideas of a four wheeled cycle was nice. I knew they had large tricycles (and not just the little ones for kids), but it wasn't until I was grown that I actually saw a quadricycle. I sat on it to see what it was like, and it has two pedals for each of the two main seats, and a rack and pinion steering wheel. It has a quaint looking canopy (which is removable), and a front basket that can seat two small children or other items. I didn't bother to go renting it ($15/hr) for myself, but figured I would return when I finally had a girlfriend or wife. That occurred the following year, and the carriages were still there, but by the time we decided to go ride one, they were gone and never came back. I some time later heard in the news about another renter (could have possibly been the same one) in Long Beach, LI, who they were trying to force out. We had friends there we visited occasionally, but that operation was soon gone too. Why did we get rid of all of the pedal carriage dealers? Years later, in the internet age; I see that the only ones left, are all far away; mostly out west! I try again a few years later, and there is now one based in Ocean City, NJ, near Atlantic City. But we never go down there. They would have been nice in Ocean Grove, a quaint old Methodist town up closer to us, where we used to go for the annual Christian "Big Splash" event!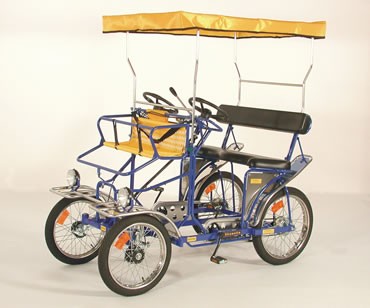 I also see they sell them in Hammacher Schlemmer on 57th St., where they had one on display. The small one that seats 2 adults is $3700! It is too big and heavy to bring upstairs to an apartment, so it would need to be kept in a garage. It is basically, a small car! I don't know why those pedicab companies in Manhattan which use tricycles (and are doing well and not folding), don't get these as well. They also come in "limo" style seating multiple riders!
I also like the four wheeled motorcycles, known as ATV's. But these are not for paved streets, though. They flip over easily, too. I also like the little pedal boats I used to see (and rode once) at Bear Mountain; LA's Echo Park, and my wife and I tried in the Pocono's. Then, the "jet ski" personal watercraft also looks nice as well, when you're operating it slowly, and the little fountain of water sprouts up out of the back. I first saw this in Key West. Never had an opportunity to try this, or an ATV, though.
Maybe I got into these things, because of the thrill of operating a vehicle myself, which was something I never did. (I always loved bumper cars as well). Of course, all of this was years before I began operating these huge multi ton subway cars!
Update: 20 years after first seeing these things, I FINALLY get to ride one. I find that they are being rented in the new park that governor's Island has been turned into. They actually started a year prior in 2010.
So my wife and I go, and I chose a Friday, which was an RDO for me that pick, and I had thought that the "Free Bike Fridays" offer of an hour free included the quadricycles, but that was only for regular bikes.
So for $35 an hour, we take a blue one, and do a lap around the island. I pedaled, and she tried to help at times. It's actually a lot of exercise, as the cycle is heavy, and even mild hills take a lot of work to gain momentum, and you slow down quickly. I almost couldn't get up the hill on Andes Rd (heading inland from the old fortress on the NW corner). When I got to the top, I had to take a rest, and then it was about time to return it.
So it was nice. She wants to go back.
The thing about the island I don't like is that I wish they would save and reopen the housing instead of tearing it down to expand the park. I had visited the island back in '94 when it was still a base, and open to the public only during Fleet Week, and I thought it looked like a nice "neighborhood". Like a spread out Roosevelt Island.
On the west side, there are three six-story post-war "NYC project"-like apartment buildings (in a semicircle around a court year dfacing the water), which I thought was interesting on a base; plus one newer T-shaped highrise immediately to the south of it. On the east side, there are eight pairs of two story "suburban project"-like adjoined row housing, which resemble suburban developments. These are all vacant. Some even newer "condo"-loking houses on the western tip were already demolished, to expand the park.
The island is considered a part of Manhattan, and those ares, plus the historical section on the north end, made for a very unique, hidden part of the borough.
---
BEST CGI Graphics!

Coming out around the time CGI animation became popular through Pixar's Toy Story movie; I was astounded by the view of this Sugar Bear commercial, produced by Topix Computer Graphics of Ontario. He is chasing Granny Goodwitch, and she pulls a lever which covers her house with this shiny black armor. Then, when he's inside, you see him deflect some lasers with the spoon. The backgrounds looked so real, and more importantly, the animated characters blended in so nicely! With the shadowing added to standard 2D cells, they not only fit in nicely inthe 3D atmosphere, but actually looked a lot better than the 3D figures commonly used in most CGI productions, such as the popular ones by Pixar, (Toy Story, etc) Dreamworks (Shrek, Madagascar, etc), and Blue Sky (Ice Age, Robots, etc). In all of those, humans all look plastic, and animal fur also doesn't look quite real. (This looked right for the plastic toys of Toy Story, but the humans and animals in this and other CGI movies looked like they were made of the same stuff as the toys!) Until they perfect skin and fur texture (and human head and body proportions), the shadowed 2D cells look better. The shadowed Shaggy and Droopy cells in Cartoon Network's "Pulp Fiction" spoof fit right in the live action background! And I would have rather had a shadowed 2D Scooby done like this, than the 3D "Doberman" looking Scooby (with the small realistic eyes), from the live action movies! In the Sugar Bear commercial, the graphics were even more clearer than most of the other CGI stuff. Another, similarly done CGI animation was Cartoon Network's "Cartoon Library", which took rotoscoped cells of classic cartoon characters and placed them over a new, realistic looking CGI background (You can see a poor quality filming off the TV screen in black & white, and in Portuguese at http://www.youtube.com/watch?v=XGPXDZ_11FI). Thankfully, Matthew Payne, who did artwork on the commercial sent me a video file of it. I have to find out about permissions from Post Cereals before I put it online. Topix should hook up with a major studio and do movies and shows! I would love to see them redo many old cartoons like this: new CGI backgrounds, and shadowed 2D cells! To create new interest! Scooby would be a great series for that!
Also deserving honorable mention is that Super Mario Sunshine and Galaxy have the most realistic looking water! Bernard, by Rg Animation Studios (used as between-program filler on Boomerang) also has very good, realistic looking backgrounds. Though again, it suffers from Bernard having perfectly smooth plastic looking "skin" (fur), and a weird looking character design.
HunterDouglas Silhouette hybrid blinds/shade
http://www.hunterdouglas.com/hdg_product_detail.jsp?id=1
"Versatile Silhouette® window shadings, with the Signature S-Vane™, suspend fabric vanes between two sheer fabric facings". It is the coolest window covering I have ever seen. When lowered, it works exactly like a Venetian blind, except the vanes are made of fabric and suspended between two sheer coverings. When you pull the string to close them, the blind is now flat, and get this, as you continue pulling the string, it then rolls up into a headrail like a shade!
I first saw this at the Home Depot that opened up in Manhattan. For a normal sized window, it would be about $400, though, and it has to be custom sized, so it might not be good unless you are staying at a house for a long time. It is however another one of those nice ideas that would be nice to have. Other such nice-ities I see at Home Depot or other places are single drum front-loading combination washer/dryers (Equator, Malber, LG, and a cheaper one from upstart brand Haier that the sales person said takes four hours to dry).
Battle of the GHOSTBUSTERS!
In Essays page

The map on the right was an excellent subway map design, from KICK Design that we discovered a few years ago. It uses the 1979 colors, but represents each line separately--like the 1967-76 maps did, using the older color scheme. The other major highlight is the use of different colors to highlight different neighborhoods! I and many others loved the idea, and it has been suggested to MTA, but they seem to prefer the current Tauranac designed one.
The use of slightly different shades for each line was an idea I sent in to them. I afterwards revised it so that the line shading would reflect times of operation (lighter shades for part time, etc), but IIRC, this was done right after my initial suggestion.
To longer essays (Entertainment, Transportation, Math & Science)
Significant Milestone in American History
My gladness at the election of Barack Obama as the 44th president of the United states is that it is perhaps the ultimate validation of the black fight for equality in America. I now feel more finally accepted as a people from society at large, and we can begin to move on. It will not end all of our problems, but would be the crowning acheivement in a struggle that began hundreds of years ago with becoming free from slavery, and then gaining free rights in society.
Hopefully, it will serve to change our focus. Many people are still making "racism" the number one issue. But for a black man to become president; you must admit that it is no longer the issue it was even 40 years ago. What is left of it, is a sentiment in individual people's hearts or minds, and one which may surface at times when those people manifest it in their power or influence. Examples would be acts of hate, such as we have seen from time to time. Or perhaps discriminatory policing. Most often, offensive comments; often slipped out unwittingly, or racist movements (including the possible skinhead threats to the candidate); all of which are pretty much on the fringe. But there is nothing we can do to clean the hatred out of individuals' hearts. We can continue to try to teach against and oppose it, and it is usually dealt with or at least challenged when it does surface. But it is not the main issue some leaders have continued to make it out to be.
When addressing inequality in this country; I would think it is finally time to move on from a focus on race, and acknowledge like both Malcolm and Martin in their final years that economics is the new discriminatory means. Recent economic developments should make this clear; where CEO's can run financial instituions into the ground; threatening the whole economy, and even if they are forced out; they still walk away with millions of dollars. They can go as far as having the government spending billions bailing them out, and the leaders will think nothing of continuing on with ridiculously lavish retreats, such as $89,000 pheasant hunts, as if nothing happened. (And I thought the $2000 wine tasting classes I used to hear about in the '90's were as extravagant as one could get!) And when exposed, they do not even offer an apology, when asked! Even if we think capitalism is good, we should finally realize that something clearly is wrong here. And while the heads of these large corporations in the spotlight may still be white; the other end of this economic divide is becoming increasingly color blind. The problem with these leaders is not, or at least should no longer be that they're all white; and blacks and others don't have their piece of the pie "up there". It's that those people (whichever race) simply have taken too much of the pie, and there's little left for everyone else.
We should recognize that race only appears to still come into play, because the lines had already been drawn along that issue. See Here). With blacks not even having equal rights for over a century, of course those who would be in positions to move up to the top would generally be white. It would take time for blacks to be able to catch up where more of them could be CEO's of these large companies, or heads of government. The first step was becoming rich through such talents as sports and entertainment. Now, presidency, is a major milestone!
So those of us struggling should not look at the current crisis, as well as the already rising prices of living, in terms of race. To do so is to miss the real issue and allow the conservatives to deflect the criticism by claiming unfair and inaccurate race-baiting, and dismiss the whole criticism made of the system. The issue is becoming more and more along the lines of class. Conservative rhetoric for the past 30 or more years has been blatant in justifying these trends; often in terms of "deserving" and "undeserving" groups of people, and the poor essentially blamed for the plights of the middle class, through such code words as "taxes" or "social programs". (And "class war" rhetoric being called "Marxist", even though is only an observation of obvious trends). Yet it would be not only the "middle class"; but also the rich who would be defended against these taxes, and ignored would be how the greed of the rich would be what really hurt the middle class the most, along with the poor. This even came to play in the campaign debates, where McCain kept throwing the charge of "redistribution of [your] wealth" at Obama, even when he made it clear that his plans would be better for the middle class than McCain's "tax cuts for all" (Including these same rich. And while the middle class would get tax cuts, they would get taxed on things such as health care!) In actuality, "redistribution" has been occuring anyway; only most of it ends up flowing upwards; instead of trickling downward!
But it's not really greed, some will even tell us. It's their hard earned "right" in a "free market economy", where they "pulled up their bootstraps" and took "risks" whose whole point is the potential "reward". So then, a whole "entitlement" mentality breeds, resulting in the crass "stop at nothing" greed we see in the crisis. But then such observers never seem to put together that if you promote a total "winner takes all" survival of the fittest paradigm; then most people will suffer for the sake of the powerful few; as "all" means "all", and the "winners" won't stop just because everyone else does without. If the average person and the entire economy is losing money, and the executives, pop culture, etc are gaining money; then put two and two together! Aliens have not come and taken money and resources off of the earth. It's all still here; only being concentrated in certain places! See here. A lot of people must have imagined or assumed that these people are so honest and worthy, and care about the interests and good of America. But they are essentially following "the law of the jungle", and are only concerned with their own interests. So people need to stop and THINK about what exactly we're really dealing with here! We all talk about "peace and love", and all the other virtues, so then do we really want to follow a "jungle' mentality? And these observers; usually coming from the conservatives and libertarians, generally claim to represent what's best for the middle class, and are not saying that we should all be happy with nothing. So we should now move to a greater awareness of the economic oppression. Why do things cost so much? Where is all the money going? If those at the top "worked hard to get it", then have the struggling middle class then not worked hard? People; WAKE UP!!!
See also Right Wing issues